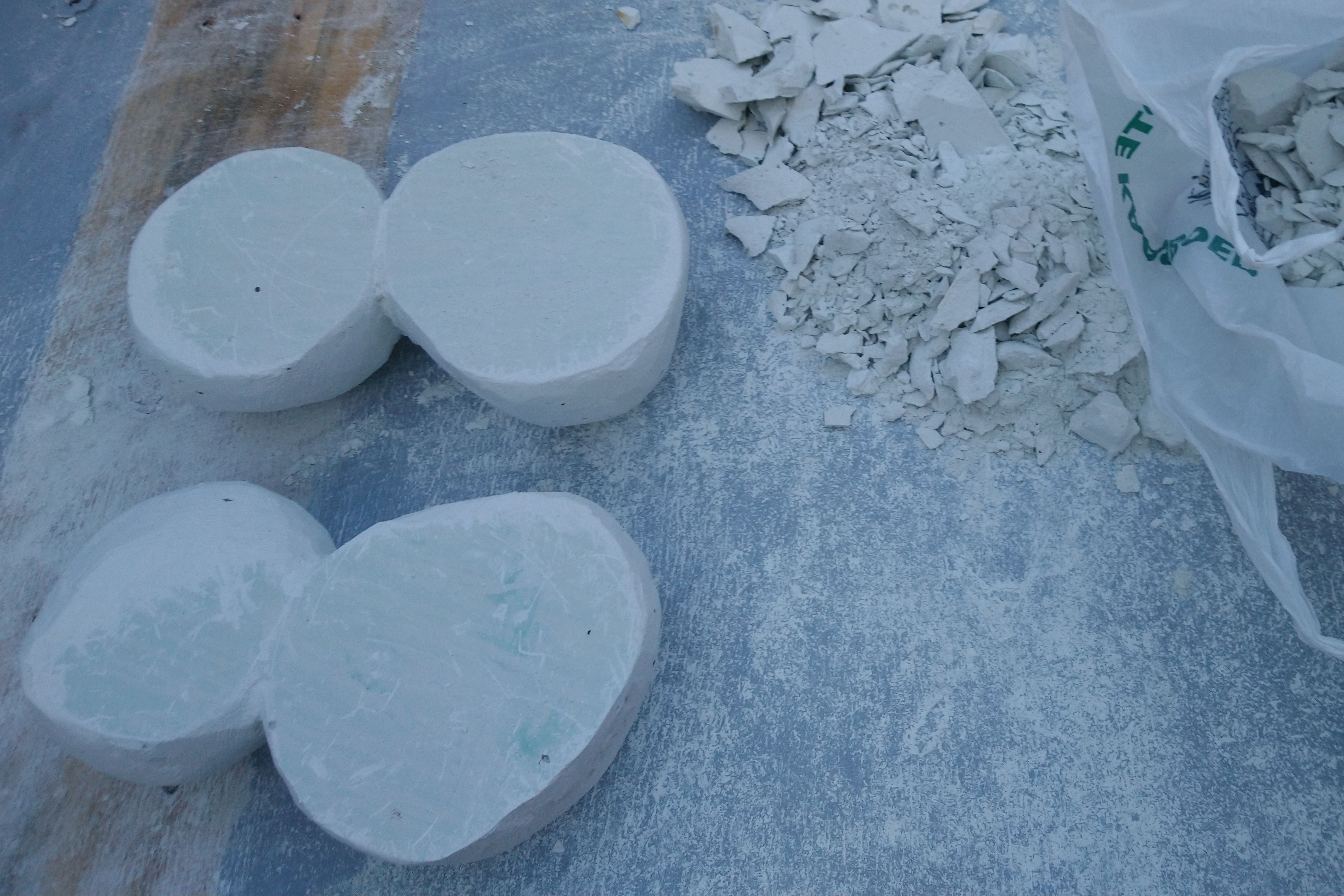 2020-2022
It has to be apart/
It has to be alone
There's a secret laid somewhere else inside the body as a remembrance of our home far away from us. and I wish cloud on your shoulder. I guess we carry a sense of guilt on our shoulder: for those who leave our home place and settle down in a new place and it becomes a burden. But I found a better word lately which is cloud. I wish cloud on our shoulder because cloud changes its form and we can be doing things differently. You do this and I do that. It can be so little as taking care of oneself, eating a scone as afternoon tea, discovering a sea in a glass window of a door, and telling a story about an eyeball visiting the old house become distorted and cut itself into half one for the longing past and one for the missing future.


A plaster with flowing blue droplets alludes to the imagination of the plaster as a house fragment, which was once containing the memory of the house, left in the trash crying. A pair of eyeballs in a distorted form, which usually happens after one crying a lot, came to her. The eyeball invited her to visit the old house that we could no longer recognize.

In the old house, a black and white window with a curtain flying and dying plants tell you one is no longer living there. Restlessly laying around, paper made British-Hong Kong coins are also flying, flipping up and down as if the memory comes and goes. Looking into the photo frame where images of the coins display, it asks: I did not ask you to come by, why did you. The only thing that stands still perhaps is a mirror. Covered with droplets, it lost its reflection to see itself clearly.

To visit the home, one has to choose. To settle down, one may have to cut themselves into half, one for the longing past, another half for the insecure future. Heading to the cloud and looking through the window, one may discover the light that casts the shadow of the window. There writes: the moon is shining on the sea, we are heading to it, why is it not shining on us?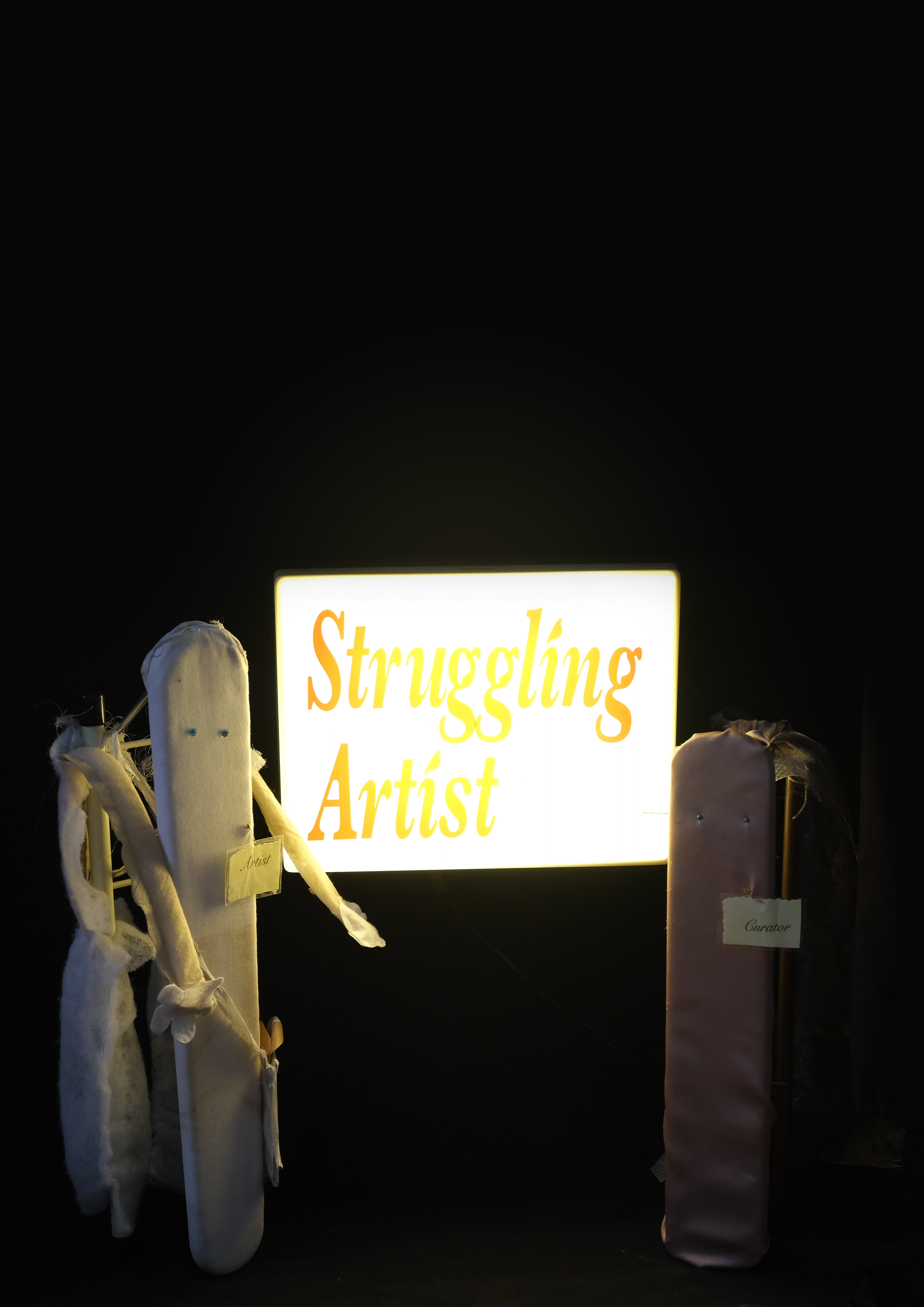 May the Art World Tear Us Apart Til We Meet Again
How. How to become an artist. How to be an artist? I've always come back to this question.

Comparison. Comparison amongst peer artists. I look at things in my hand and look at the things in your hand. We look at things that people have but forget what we have (want to have it).

Friends. I came to my friends for a chat as struggling artists. We looked at the little stones that kicked us a bit on the way of art making. Engraving sayings from friends on ready-made objects. To become reminders we can use to deal with failure and struggles.

The art world. May the art world tear us apart til we meet again. We were given a working space again. Budget, space. (stars stars eyes) Who does not like to have an exhibition? Every show can be a stepping stone towards a brighter art career. More shows, more fees. (applicable only in places where artists fees are available)

CV. Anything to do with our CV? What if an exhibition has nothing to do with it? Is it not just about showing but a conversation? Not even a statement or expression. What if showing art is only popular amongst art lovers? (artists/art makers/curators/collectors, etc.) What if we make art for artists to learn? (better to say inspire, copy? No…) What if we take a slow walk and think about the meaning of it. What if we are not having an exhibition, will we make art?

I thought of friends who rejected exhibition opportunities, and I thought of taking a little break from the imagination (planning) of having a busy "artists' time table'', upcoming show! upcoming show! upcoming solo! (Who said that professional artists are those who have 6 shows a year?) I thought of friends who told me about happiness in living a life: looking up at the sky, walking the dog, and making nice dinners.
May the Art World Tear Us Apart Til We Meet Again


/


curatorial statement

May the Art World Tear Us Apart Til We Meet Again. Like its title, we borrow a hymn- 'May the good lord bless and keep you till we meet again', and gaze at pie in the sky, or is it a possibility? Originating from receiving an invitation from de Bierumer School and a budget for a duo exhibition, Struggling Art Space brings together 12 artist friends in the desire to challenge the allocation of resources in the art system. The artists, from Hong Kong, mainland China and Taiwan - half working in the Netherlands, develop tactics against competition in the art world that influences the mentality of art practitioners. By weaving a web of connection and exchange- there grows an ongoing, multilateral conversation reminiscent, which the exhibition explores and untangles.

What connection manages to offer at this current moment, is as much a reflection and exploration: the unspoken assumptions; different roles played by individuals within the art world; and revelations that are closely related to the idea of institutional critique. The exhibition employs the setting of a shared studio to imagine the function of a working space, and a mindset and mentality of art making it mirrors. There are many things we can change to rethink a general spatial coordination that is applied in a general group exhibition setting. May it be first come first serve, or leading the viewer in a natural order around the pieces, its approach is obsolete in many ways. As you enter the exhibition, we make space for the loss of feeling and sensation in exhibition making taken for granted.

By transforming the conversations of the 12 artists into 12 questions, Curator MeMe waits for the reply. We check the pulse, gestures and marks to examine and trace the structures and ideologies underpinning art institutions. It is believed that the conversations about personal struggles has spawned this exhibition. The artists bring us into contact with their deep reflection on confirmation, but also uncertainty in their pursuit as an art practitioner. Throughout the exhibition period, a public programme series will also be taking place, including Curator MeMe and artists' sharing, fortune telling, cocktail making, note-making guided tour as an extension of the works featured within it- a get-together along with a shared experience of struggle.

'May the Art World Tear Us Apart Til We Meet Again' is curated by Curator MeMe @Struggling Art Space, and co-organised with de Bierumer School.

If an exhibition is a gathering, what would it be like?
/
Review on May the Art World Tear Us Apart Til We Meet Again
Walking into the exhibition, looking everywhere, some wine bottles seems to make it more like an event to have fun! Or is it really about having fun? You walk into our game room, wishing room, alcohol room and bread room.


Gathering 12 art projects, 12 struggling questions and 12 responses from artists, the exhibition turn into a temporary rooms of different functions: may it be a mountain room, a bird feeding room, and a flying room with failed attempt?


What can connection offer at this moment? Would it be a setting of an exhibition that looks like a shared studio? What if the function of a working space could reflect a mindset and a mentality of art making? How can we rethink a general spatial coordination that is applied in a group exhibition? By making space for the loss of feeling and sensation in exhibition making that is taken for granted, you may find bread sculptures located in the corridor as real as a bakery.


The unspoken assumptions; different roles played by individuals within the art world; and revelations that are perhaps closely related to the idea of institutional critique. How much time would an artist use to deal with it? Looking up the window above the stairs, you will find black-out envelope resting next to the window, enjoying the landscape, the sky and the weather. Reaching it and you can have one. Taking the envelope into the attic, a preview may guide you to flow down the stream, the struggling Artist MeMe are busy chatting with Art Writer MeMe, Curator MeMe, Collector MeMe and Art Student MeMe. What about taking a rest and hearing stone patterning around? Or thinking about the future and having fortune telling in the sweet and warm tent?


27 April holiday I have my quite few holidays start with making nice breakfast with home-made jam, making toast, milk tea and jam, do laundry, dish washing and finally read a few pages eating breakfast. I guess today it's my chill day
Having nice coffee with Christos and Yu visiting my studio. talks about relationship, love, art, painting, work, side job. I am very happy to hang around with Christos, he held my arm and we walked walked walked around the city centre, came across with our lately changes of becoming a writer, all "all a writer needs is just a room to write", we don't need much, no need much.

"The depth of the canvas, this 1 cm represents something." Christos said. Everytime everyone came to my studio for a visit I unwrapped all the paintings and showed them one by one cherographlly/ He loved this series, it's a nice one, hope I can have an exhibition.

We don't believe in relationship now because of several break up stories amongst friends but we are taking time to make art and work a side job. I was talking a lot and he kept listening, this guy that guy this girl that girl this rumour that rumour...

Yu said she liked my paintings of You are progressive I am shy (I am shy you are progressive.

She said there is comfort, she likes how fibre is not tidily wrapping the canvas, so as Christos. We talked about taking things slow, not willing to have someone push. Yu gave a lot of input to me about painting, about not willing to make a lot of images and hose amongst it, from spending time on canvas, from what if having a child and saving paintings for years, from not being original as a painter or artist, from being similar with lee kit's work, not about copying but how a student learn painting by putting paintings you love next to it, finding a job to support own painting, and having a side job like cleaning for me is not wasting time at all but more like giving me a lot of input。"only one paintings seems not standing you probably need a lot of them." "Being independent is to ask your partner to give you space to find own self, there is this border line not crossing each other/"

What about teaching? Christos asked in the meanwhile. I love teaching, I love sharing artists and artwork from places that students here may not come across, I can remember names of different artists, and I like to have a stable income to be an independent artist. He said from the beginning her knew me, he felt me and Tine have a different view about the world, how we approach things, there are always a lot of input.

There is no exhibition at all from this moment, but I really treasure the time and moment where I can really take time and focus on making my archive of intimacy. I guess I can publish a book that contains all my intimate diary alongside my paintings as images.
Mondrian fond

mondrian fond

mondrian fond
Friends talk about Mondiran fond whenever we meet. Mondirna fond mondiran fond mondrian fond will you apply for it? Working as a cleaning worker and being a lecturer-researcher in Minerva academy, I have long been an independent artist. It sounds nice but tough in a way that it is a real experience of earning money, a bread for living hour by hour, making bed sheet which is heavy, touching cleaning chemicals, hoping not to sweat under hot weather, pushing vacuum cleaner to somewhere and mopping with my energy. But I am not an artist who think about funding and future that I can get rid of it once I got a funding. "I will be successful soon and I don't need to clean, but just clean for some money..." not in this way.

"Are you a writer?" In the King's day market I spotted a typewriter in the end of the market and just the same day morning I was typing in my computer, hoping that I can print something out right away and it would be nice to have a typewriter." I asked about the price which is 5 euro that all my friends are saying just buy it and what are you thinking? Well, I earn money so hard I am careful in buying things but lucky that I got my first drawing sold to one of my teachers who said he wanted to buy a drawing from this struggling artist. I am living a life buying groceries and art materials with the cash he gave me, which makes me feel safe instead of spending money in the bank. My friend said, " a writer dones't need much thing." All of a sudden, my reply to apply for Mondrian fond only because I want to write something to them. I really have something to tell them like writing a letter to someone, but not out of my anxiety and lack of money issue to apply for a funding. "I have something I want to tell you."

I work 7 days a week only when cleaning place or school close I have holiday but I have a very nice balance between work, art and life. I can go swimming, teach students, read and work a side job, do administrative stuff, and all the remaining time I have fun in studio, paint and draw. "I am my own art funding to help." After going through some award nomination which in the end I get nothing or either applying for the corona funding which I also didn't get anything despite my peer artists who have similar education background with me. I eanr my own money and consider my cleaning job as an art project. It is my funding to help. Since working in a Chinese restaurant where I was exploited with low wages and learning to tango with vacuum cleaner under hot summer, transforming all sort of experience into the exhibition in Bierumer School, I created a series of work about labour, cleaning, and making nothing out of something. After 2 years, I work again as a cleaning worker and I started to talk with dust again. There are all sorts of things, marking, and "relief" remained by people who once used the space, the high school, the baby centre and the hotel. I saw holes from wall in woman changing room and everyday I went there is new concrete or paper, and powder from the wall vomited, It's like it is waiting for me to talk with it. here you are jessie. There are these plastic bags from snack which I love a lot there vulnerability, lightness and transparency.

If an artist can work a side job that is also her own project not wasting time at all, what do I need and why do I need to apply for a funding? Is it because if I get it I can stop doing side job anymore and just working in a studio? I have students who felt impressed that I told them I am doing cleaning job because normally teachers have an image these perhaps are something hidden as secret. A lot of my friends are very happy for what I am doing now, which is cool. However, I am also an artist who currently only can share my work and paintings, or drawings through studio visit. I am an artist/ art graduate who doesn't have much exhibitions as my peer artists who are all very busy with art fair or exhibitions in Netherlands. I only apply for open call which I feel very connected, and that is not a lot, let's say one lately. I saw peer artists applying funding, worrying about artist visa a lot but how about the quality of the art work? Why not focusing on own process to make it a good work? I do see these administrative work and anxiety that came along is taking and grabbing my time of making art. I want quality but I also miss the chance to share my thought, my work with a boarder audience.

There were the 5th friends came to visit my studio to see all of my paintings. They all asked me did you ever imagine placing all these paintings in a big exhibition? What would it be like? "You should have an exhibition".

Such a reaction means a lot to me which also means I am dealing with the fact that I am somehow overlooked and underrepresented. But wouldn't it be a bit ego to say it because there are also a lot of good artists who make nice work but there is no opportunity to share their work. Artists are stars in the sky some are seen some are not seen. I guess I am not urging to be seen but it is still nice that these stars that are not shinning can have their thought, their progress and ideas shared. Afterall, an exhibition is about exchanging thoughts and sharing.
swimming ♥
cleaning ♥
friends ♥
skin♥
I told my friends I am a cool girls with failures. I am good despite no exhibition, no busy schedule as an artist but what I miss most is some sort of romance and excitement like kissing. I am a very cool girl, independent, go swimming, nice outfit, good body, nice outlook, happy, fun, humorous. Why is there no one?
/
I know I should have never squeeze my pipmples on my face. I now got a red things on my nose. I know I fuck it but that how;s life works.

Travelling is like taking your closet around
/
Swimming to see the pool

light, water, light under water
to draw something only you can't reach it, only when you are out of water you grab your pencil to draw the water which makes you feel soothing. an experience which you can only reply on impression
/
Making friends with cleaning tools.

Everytime I clean a new place I make friends with a cleaning tools.

Vacuum cleaner and mopping tools.

From the beginning they were not that nice to you but from time to time you get to know them. Vacuum cleaner no longer "mix" together, mopping tools no longer hit me, vacuum cleaner easier to walk along with you
May 1 2022
(っ◔◡◔)っ are you
staying in the Netherlands
or going back to
Hong Kong or
going to UK? ♥
I am preparing my lecture about how artists from the third world transcend violent and brutal and painful experiences through art and materials. I was thinking what are we gonna do after the lecture? I think of the reading of an artist who talked about a group of men who swim together at a certain time in Lebanon. There is a sentence about these men are not talking politics coz they know they may be fighting each other. On the same day, this evening, after the lecture, I will be heading to UK, manchester to visit 2 of my high school best friends. I try to make the trip happen it just got right there is this self-study week that I can have a holiday and the cleaning job at the high school is temporarily closed because of school closing.

All of a sudden, I realised why I like to see them. I think of a little argument and fight not really fight nor a little crack of our friendship cause it's never a crack if the crack is getting back together.

These days we have been discussing where to go, do I want to see any exhibitions? I always say to them, all I want is to meet you two, hang around, go to the bar, or cafe and have dinner with you. I just want to see how you are doing well.

In the lecture I came across Luc Boltanski's "crisis of pity" and "spectators can actively involve themselves and others by speaking about what they have seen and how they were affected by it." I think about the distance between people fleeing away, leaving home, not able to back home, staying somewhere you gonna not think about getting used to it or not.

This morning talking with friends' family, with nice sun outside in the garden, letting go of some administrative work but just simply chat. It's nice enough.

Until this moment I realised how destructing it could be when the condition of a society becomes so bad that people flea away, leaving their home, in a diaposra situation. How destructive it is enough to tear people apart? I have friends in UK, Hong Kong and so as my family in Hong kong. I am happy I don't need to immigrate and I may still go back to Hong Kong. But to me, there is still question: are you staying in the Netherlands or going back to Hong Kong or going to UK?
6 May 2022
c͓̽u͓̽t͓̽t͓̽i͓̽n͓̽g͓̽ ͓̽o͓̽n͓̽e͓̽s͓̽e͓̽l͓̽f͓̽ ͓̽i͓̽n͓̽t͓̽o͓̽ ͓̽m͓̽a͓̽n͓̽y͓̽ ͓̽m͓̽a͓̽n͓̽y͓̽ ͓̽m͓̽a͓̽n͓̽y͓̽ ͓̽l͓̽i͓̽t͓̽t͓̽l͓̽e͓̽ ͓̽p͓̽a͓̽r͓̽t͓̽s͓̽
人就是不斷的切割 there's a cloud on my shoulder:someone who is somewhere here somewhere there sometimes here and there, try to cut oneself into many many many little parts

我想把做創作的我切開割做不同媒介的我, 有video, drawing, painting, performance, music, installation, sculpture /也想將創作的我切割成運作藝術空間的我, 有curate, adm, technical staff, documentation, managing/藝術創作與空間之後也有research and lecture making的我, 那裡有個mini library for all the artists I like/這些之後有清潔的我, 那裡有塵和我聊天, 空白帶來很多創作養分/創作以外有想做手袋的我/去游水的/去二手店的/飲咖啡的/無聊的/a playful daughter / a sister who speaks non sense/a friend of someone/ someone who dreams a lot about romance/ someone who may go to UK hk or nlthere's one who want to cut studio.into.many. parts each part for different things
9 May 2022
When burden on our shoulder becomes cloud
By encountering an exhibition that contains work about protest, the reminder came to the struggling artist who struggles for a living and remember the secret laid somewhere else inside the body as a remembrance

about censorship, she said: it takes on a different form by simplying hidden somewhere in our everyday life. it can be about saying something good or bad. to say something good and not to say something bad. to regret after saying something bad and try to say things better. but it seems it's not censorship if we are not having much harm (physical harm or regret harm)

how about the censorship by Instagram? it deleted my account that contain the word s_truggle. ever since then I deleted every word and changed its form by adding a _

The secret between my friend and I which we exchanged while wandering in a shopping mall when I was back to home place this early year and it started with: I did something I felt guilty lately. it's about applying a master programme and deleted word that may cause rejection. in return I told her my secret in applying an art project funding. I also deleted a word! at least we are aware of it ?

I guess we carry a sense of guilt on our shoulder and it became a burden. but I found a better word lately which is cloud. I wish cloud on our shoulder because cloud changes its form and we can be doing things differently. you do this and I do that. and it can be so little as taking care of oneself, eating a scone as afternoon tea, taking time slowly and discovering a sea in a glass window of a door.
May 11 2022
I wish cloud on your shoulder
I wish cloud on your shoulder

a piece and a piece of completed fragments of what we perceived as very serious topic.

What is the meaning of sitting at the table having dinner, breakfast and lunch while seeing a name of a person? What is the meaning of writing a book about oneself?

In between facts, in between facts and something that is so close to fact, but not fact in some people's eyes. Like pigeon spikes that look like grass and imitate grass grow secretly everywhere in the city so that pigeons found bird spikes that look so alike grass but nowhere to stay and bleed. Sometimes grass is wet and you dun wanna sit on it. I always wonder why a lot of my friends in Europe like to sit on grass for the whole afternoon getting their butt wet.

back to friendship. Human seems a very nice source of friendship. What if making friends with geese in the park? By pointing at them saying you want to have geese noodles, some may say you are brutal but you know these geese are not those geese you eat in Hong Kong. "Be friend oK?" may pop out in your mind and you make veggies letter to them they may ignore you coz you may make cauliflower leaves for them which they don't like. Or dust: cleaning is to wait for the dus to come and make space for dust to come. If you become a cleaning worker and clean space where people all left you find dust and trash are talking to you all sort of ways. I found a hole in the wall in woman's changing room vomiting paper and concrete everyday I go like talking to me.

Shared lonesome, intimacy, personal and floating memory fill up the holes of history in times of being away from home. To share intimate memory with someone who reads one's words and not easy to explain things with own's words. There's distance between people and people who suffer. To explain things to people where then they know I am from Hong Kong. When was the time I felt hesitating to share news with violence and blood in social media coz I dunno when people get bored and drowned by those impressions. But I found it nice to transcend human pain, burden an suffering through inanimated objects or materials. In the end, everyone is just doing different things.

It has to be apart/ it has to be alone; there 's moonlight in the sea, we are heading to it, why is it not shining on us? The eyeball came to visit the old home realized the home is distorted, it cut itself into half to see what's going on. To settle down, onehas to cut itself into half, one for the missing/ longing past, one for the longing/missing future. Look at you purse, you may find two British-Hong Kong dollar secretly following you from Hong Kong, hidden without asking you if you want them to come. You held them in your hands and asked them: I did not ask you to come by, why did you?

Interwining and tangling between "facts" and personal memory is like not having enough sleep. You chase and remember the texture of your bed and the carving of your childhood feelings, is the same as the time you laid in bed, little. not much. would have been much better if you have more. They are as short as sweet dreams. You long for more. I guess, which is the shape of you body slightly engraved in your bed back the old home. distant. far away. "abandoned". gone, somewhere there and somewhere here. I hope you find shape of sweet memory here and everywhere.
15 May 2022



The 1% that makes a text imperfect
sometimes it's okay to write something imperfect for it consists 1% of the text to make it an imperfect text
as long as I got a pen, some paper and a book for a journey no matter where I go I feel safe
travelling is about bringing your closet everywhere
tooth brush, cons?cosmetic mini pack? a phone charger USB, serum? you like someone who's not handsome for the first time.
/if writing is like praying as what Derrida said, bringing a book with you is more than talking with someone but you close all the books you read you kind of hear whispers from everyone of it
/I want to make 2 more tattoos, one for all the love I passed and one for the love I long for
I am not the coolest girl in front of you but I am
in between sweetness and bitterness there's this fragile-ness-less, I name it, when falling in _ fell so fast you have to be careful sometimes you are tough sometimes you are not: how to fall nicely fall carefully fall

"not to be coolest for some moment means to be fragile and allowing oneself to be fragile is damn cool ya fuck it...
May 19
I am going to be a painter
I was meeting our art teacher friend, J_ _ _ _ in Berlin, midnight in a snack bar. We were very excited talking about art. Ah, and she was my teacher whom I had a class about 3D fundamentals before I decided to change my major from History to Fine Art in the university. She said to me, "It's fine not to change your major because you will be good at other stuff too."

Coming back to the snack bar, she suddenly asked me, "Why do you study painting? Painting is very traditional, why not others? What is a painting for you" I said, I don't know, when I was applying for a master, I was painting and I thought I would become a painter. Thinking of my old days, I did think of being a video artist, a sculptor, an artist who draws, a ceramist, a performance artist...She said this is not the answer. I was quite nervous cause I cannot answer her question. She said any answer can be an answer but an artist can definitely say something about it. Before we said goodbye to each other, she or I said, "You/ I gonna find out the answer, perhaps 1 year later..."

In the end of the last seminar in the master programme, I decided to do some traditional paintings and learn canvas painting skills from my friend M, who is quite skillful at it. He taught me how to stretch a canvas and I imagined going to a tutorial class (a painting studio) but then I lost all of the footage...) He borrowed his studio key to me and that's how I start to play around a studio full of painting tools and materials…

************************************************************************
There are six lessons throughout the video! Come and learn!
May 25
The Politics of Cleaning
17 May

I made friend with the boy's toilet. I guess they like it. I let someone know and he said oh congrats one step forward. I said yes it is I guess they like me. But they did gave me surprise like small pieces tissue everywhere. I thought it's a gift but then it's not


18 May
Some school stuff came to me and said the mop isn't working. That's too dirty and they wonder if I vacuum clean it I said yes. She try to teach me how to clean and I said I mop the toilet with it she was so surprised and said I can't do it. nee nee nee. I told her about the tissue paper thing and she was like I have to clean with little brush. She try to show how much dust the mop had and it made the floor dirty. I was like why not asking the students to take care of the place. The mop and I protest against them. The mop striked and I talked back. In the end, I received a reply: the students in this school has some problem they have high energy. The toilet is always dirty and it has to be cleaned. "It has to be cleaned." what a nice reply to me.

I guess it is the politics of cleaning.
I felt very sorry recently
for all the artwork and little stuff I made for they are made by someone who failed to make them to be seen, I think this is the most painful thing I have in art-making that's why I stop making things now I guess I love making art too much
recent discovery of cleaning and working side job alongside working crazy with laptop🪣🚿:

cleaning is about just being there, your person, just go there wait time pass just wait and time will pass to wait for the time to pass slowly wait for the time to pass

"working as a cleaning lady in a kid centre to think what is the meaning of having a baby"
☆☆ A review on Please don't feed de fairies | AiR Christos Mavrodis. When cut pieces of words land on a grass lawn ☆☆╮21/5/2022
it's always a danger to ask people not to do something: I'm curious but I guess it's still cloudy.

What is the meaning of putting something white on top of another layer of white? some white is more white and some is more glass milk and I saw grass in the white, as the first painting I encountered. Then I saw Dutch words, but the person next to me asked what's that. I explained: it's mid day, evening and night, night and mid day and Monday Wednesday Friday Thursday. Only that you can't sort them out as usual: it's a blurry of time, day and how we separate a day with morning, afternoon, evening and night. I thought evening is night. There's counting if you put repeated things one next to each other but the counting is not really counting if Wednesday is repeating itself.

It's a dream like reality because I now know there's seagull soup, and I learnt it from a woman voice over in Greek and English subtitle but the tied jumping legs at a white corner on a mattress with operation-like tools standing by in the video told me that there's probably ties between things that are not really willing to be together and things that want to be together, two unassociated being. a boredom that has to be released in an everyday repeated life. but how much energy we need to get our boredom out of our body?

I asked the man next to me: is there really seagull soup in Greece? He said yes and probably in some island but he never tried that. If there's violence lying underneath the cooking lesson where lemon zests almost spilled out of the television you look for hinted smell of violence coated with words-cut pieces of grated zests. As if the glass cup whispering behind me as if a child feeling so bored listening to adults talk at the table which brought you somewhere and said things kept to yourself: one is not being nice, one is looking for the best phone, one is a bit sad for being like a stranger, and one is vomiting, falling. "Blow the goddamn nose" and blow the words away, with wind as they guide you to the grass, which is as fake as animation grass. Crawling gesture, crawling creature, crawling paint, and crawling contour line that grows out of a wood hammer. Things got flying and things got settled. What's the difference when you are almost falling and take off. It's a lullaby for fallen things, and perhaps music and grass is the best thing to help calming a flying floating being.

Still what can I feed for the fairies. I think I got it until I got upstairs til the end of the attic in a white room there's this pink liquid in a plastic bag. The same image as in the poster. Looking outside the window, upon the sky, in between the glass window, almost being clamped on a concrete wall, and you cannot reach it.

a cut piece of grass and cut pieces of grass well placed;
words being fed and words you have to look for; an unreachable foggy allegory and a sunny Saturday fed up with stories with grass lawn everywhere.
it's days in between goodbye
and said goodbye to him to her in between there are 8 months. it's for him but now it's also for the little friend I made in the place which was new for me and many others we need nice goodbye.

it's a condition like those days I was thinking whether or not change my major from history to fine art? it's like I did some art courses, I had fun with it, no matter I will make art study art it's okay but then I did. it's a state in between saying goodbye to art-making but I'm not saying. it's the most youthful time because you know it's okay we had fun already that's nice to know from now.

pizza making day is like hobby class you attended when you were small. chat, rainy days, adding cheese, tomato sauce, spreading a rainy chill day rest and come to an conclusion that artistic practice is something to be elegantly ok with down frustrated down and elegantly down, getting down being happy to chat with different artists friends and cleaning friends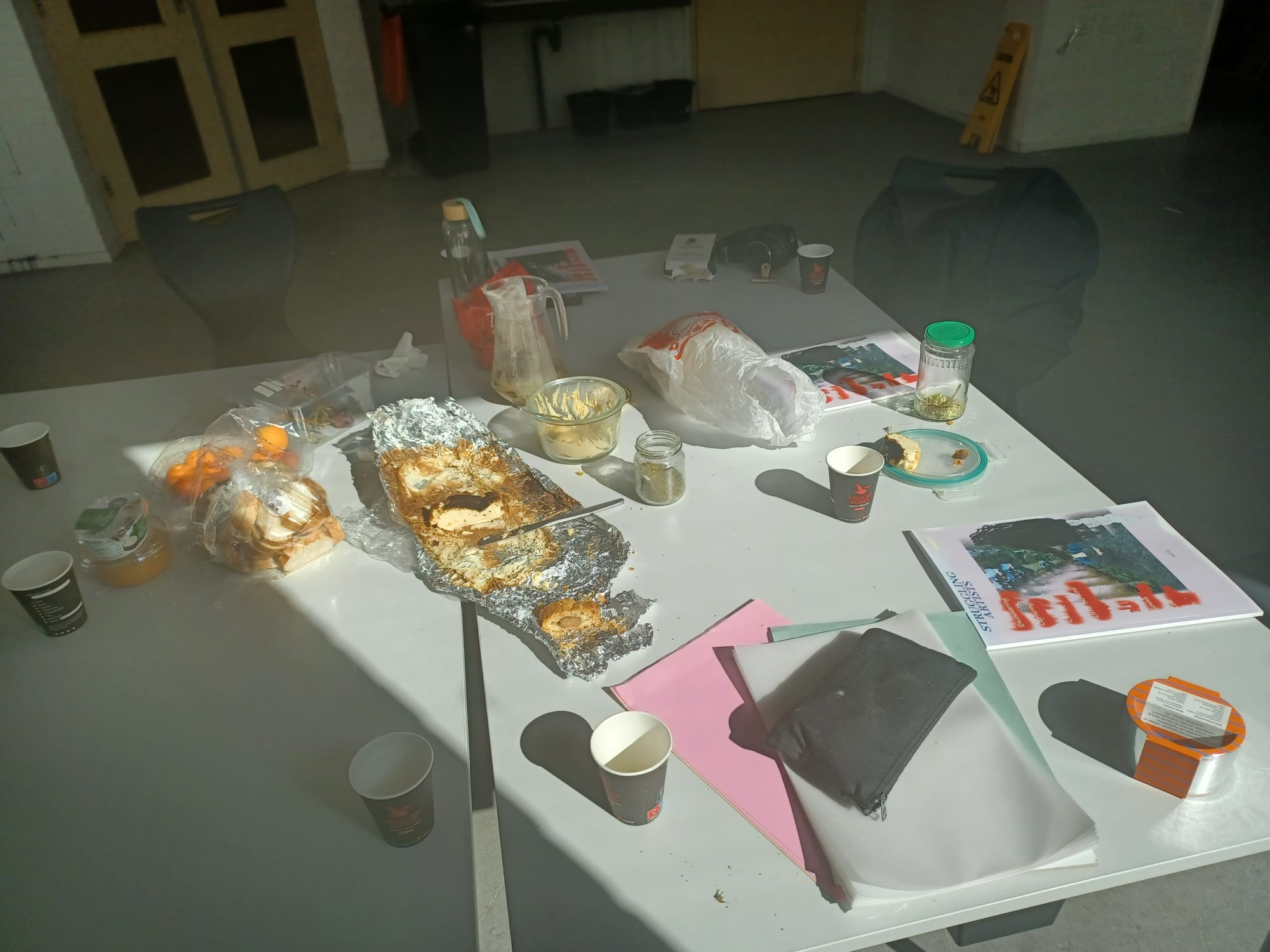 I think I will never forget June 2022, which was not only the end of my first experimental lecture in the Netherlands but it is also the hardest time I ever have, and how?

it is time I felt deeply sorry for all the art work I made, I made a lot like a irresponsible mom and not being able to make them to be seen;

it's time I woke up 6 in the morning and work til 12 the mid night from cleaning, teaching, art administration and application in between I stole one hour to swim and get myself sober up;

it's time I get sick of the place where I have been studying for 2 years, not the people but growing up.in city filled with chaos I did miss randomness, I love all the people I meet here, they are all my international friends;

it's time I'm planning to move alone, but with a bunch of art work I made I guess I would rather pay for them as I can't really throw any of them. I miss those I sold or gave it to people I hope in the future the price can be high enough to cover a sustainable art making life and my affection on them, missing them, trying to make a repeated one;

it's time I try to make the best way out of such a getting-stuck-lesser represented emerging artist career. I was told that I was already like 100%passionate in it in bachelor, it can't be more than that;

I was really glad that we did a round table with food and think about what is a lecture that is not materialised. I brought notes, baked cake and so as students. However, we started the conversation talking about struggles, Netherlands, weather, culture, food, love story, art, the magazine thesis, passion aggressive, and what did we inspire most here, etc. I feel support when I was told that I'm such a teacher who can be sitting here just chat, and showing the fragile self, my side job as a cleaning worker, there's a vibe around me that I open myself and honest with it.

I love a lot the conversations about passive aggressive, in the end the way I thought I was passive aggressive is not really passive aggressive but passive and trying to be aggressive. also the surprise that I like grey sky but not sunny days. I'm playing at the cliff almost breaking all the rules getting fired if I break more.
A question I answered in a job application about how I meet the criteria as an underrepresented artist / practioner☆☆╮
_ will prioritise applications from candidates from Black, Asian and ethnically diverse backgrounds, currently underrepresented in the Arts sector.
Please let us know how you meet these criteria.

I feel thankful that there is a space for this question and thank you for taking a moment for this story, which is a bit longer.

By cutting myself into many many many little parts: I conceive myself someone somewhere here somewhere there sometimes here and there as an independent artist who works as a part-time research lecturer at the Minerva Art Academy, founder, curator and coordinator of Struggling Art Space but also 4 cleaning jobs, as a young, emerging, lesser-represented female artist coming from Hong Kong. A lot of my students appreciate me as a teacher who opens myself to share my failure, difficulties, struggles and also the condition of working as a cleaning worker. They said they never meet such an honest teacher who is showing their vulnerable self and tell students she is a cleaning lady. It is true but it is not the complete picture because the wages of a part-time lecturer is way too low that I am not even sure the minimum wage I have in preparing the class is higher than one hour cleaning job.

It is also a result of not being able to earn artist fee and art work sales to sustain my art career that I have to do side jobs. If cleaning is to make space for the dust to come, I meet cleaning friends who discover the joy and void which brings me input. I find holes in the changing room vomiting like talking; tangoing with a vacuum cleaner; make friends with the toilets. Despite having a hard time making a living as an artist, I have never let them steal my creative time. However, witnessing my creating time being taken away, I realized art-making is still the only thing I long for more, hoping to cut a little less of myself and I really miss art-making in my own studio.

Whether an artist is underrepresented is always relying on a relative level. Despite my effort and commitment in art making, I am only known amongst peer artists for making good artwork with sense and as a good artist and curator. When an artist is underrepresented, she is not known in the art scene but only amongst peers, especially compared to artists who graduated the same year or generation. Unlike artists who focus a lot on after-effect photo edit of work to make it a better profile and all kinds of open call and funding application that is shaped by the art schools, I truly believe in listening to the unheard voice of everyday life, focusing on the quality of art-making, and looking for alternatives. Although it brings me a future without any exhibitions and solo invitations ahead but self-initiated projects, I still believe art as traces of lost moments.

Underrepresented artist is a condition where I can only invite people to come to visit my studio and receive feedback about "I think you should have an exhibition/ solo." It is also a very hard time that I would not let myself give up as I have always been passionate about art making. It is a time I told myself if there is one day my works are represented, I would treasure it even much more than now. No matter how much the artist fee I receive, I am still working with an earnest commitment, to share creative outcomes that are public driven with an inquisitive attitude. I look for a job in an art space in London because intuitively I believe my work and application would be treated in a delicate manner instead of being roughly assessed, but also to work with the diaspora realities and contribute my artistic research to the discourse. I feel grateful that I have created artworks that I devote 100% effort to and somehow they become my life buoy.

Studying in the Netherlands, I witnessed and observed exhibitions and awards that "prioritise" artists who are Asian, Black or issues about races and queer, which is more on a shallow level. I worked with an art institute that open called for artists to moderate healing workshops. I was chosen as an Asian duo and with its emphasis on "diversity", which tends to create statistics where participating artists are from diverse ethnic backgrounds because underneath whether it is a belief that is truly upheld and respected is really doubtful. I still remember very clearly that when we were taking some photos for social media promotion, we were asked to hold herbs in our hands. Meanwhile, another colleague of the same team, who is not white, is asked to show her hands also in the photos, softly saying a hidden message that is known among each other to create a picture filled with hands from different people of different colour. With a slight apology, the invited colleague understood the situation as if it were some hidden culture of the art institute.

Young asian artists are "represented" in a way that is good for the practice of art institutes to fulfil the requirement of allocating resources to artists of diverse backgrounds but equality in this sense is just a number which is not truly embraced. I was also nominated for a local art prize and Asian artists who were nominated for the same art prize could never be awarded but only Dutch artists. It is very questionable if these kinds of open call awards grant Asian artists a nomination to make it "international". Founding Struggling Art Space as an independent art space, it can never be regarded as a "local" art organisation but always an outsider. The underrepresented feeling is something that is always difficult to tell clearly because it is somehow calculated, man-made and quantified but you know at the same time that you were not included, and it lies very deeply under the eye contact you have with people who organised the "local art space". It seems there is a sense of guilt and a hidden message telling you that, " yes sorry we are organising some exhibition, I know you are Asian female young artist, sorry that this time we don't have you."
╰☆☆another question about myself in the job application
WHERE DO YOU SEE YOURSELF IN FIVE YEARS TIME?

I see myself as an independent, renowned and international artist represented by art space in 5 years, where I can develop my art career in the UK, to address a melancholic displacement with a poetic, humorous and playful manner. I would also be committed to the artist-run space, Struggling Art Space to continue my curated research, to work with artists, as well as to explore of a close examination of the art world and new ideas in curatorial aspects and exhibitions as an intimate encounter between the artists, the art work, the art space, and the public audience. I could hire an assistant or coordinator whom we can work together in creating a supportive environment for artists. It would grow into a funded institute but still upholding its core value and roles. I would also be able to obtain a faculty position at an art academy in the future, where I can visit knowledge on my current research with art students to develop an open-minded attitude, but also to support myself as an artist. Cleaning may only exist in my art exhibition as an art project. I would also love to embrace all kinds of unexpected moments of my life. Perhaps, I would still need to cut myself into a lof of parts maybe as a mom, a single mom, or someone's partner, but hoping that art-making is still constituting the biggest part of myself.
what i discovered: how to be efficient is to not to make a to-do list. you write it down what you need to do and after that you see many things to be completed. pressure come to you and so as boredom.

what i find really nice and easy is not to make any to-do list coz you become intutitve of what to do. Oh I finish this and what is the next thing? what do i want to do next? only when things go random you find yourself do a lot bit-by bit and they will guide you to the next thing follow...
16 June 2022
About June 2022, I become more and more awakening of all those things that treat myself not that well
I'm 29 and I think this year I accomplished a lot. I broke up, it's a 5 years relationship. I live alone. I live alone in a very small room, with every decoration I like, blueness, transparent, glass, and being fragile. I go swimming oftern. I curated a group show for the first time. I become a curator, art administrator, and art writer. After days not being busy with exhibition, I jusst work as a researcher-lectuere. I become a lecturer, though part-time, I put effot not less than a full-time teacher or any who teaches for a long time. For the first time, I insisted on doing a cleaning job to earn myself much money. I realised the teaching job is not enough for me. I travelled to Manchester and met someone in accident. I like him. It opens up the possibility to leave the Netherlands. I was always thinking to just stay in the Netherlands. I never thought of going to London. But now I want to be there. Part-time lecturer in Groningen is not enough for me because the pay is not sufficient to support myself and I felt frustrated when I put much effort. I feel changes have to be made. I want to meet someone but I know I want to be a renowned artist. I long for it and I have been questioning such a desire and art system. All of a sudden, I discovered a way to make my portfolio, in a way that suits my work and practice; I started to write much more proposal, so as writings and collect them. I started to make a whole new website which is very neat, tidy and white that totally different from my old one.

I applied all kinds of stuff, from job, residency, exhibitions in London. I got sick of being in the netherlands but also know that cleaning is not a long term thing. I need to teach in the future. I need solo exhibition. I need someone see my work. I need to present my work before someone did similar thigns. I received a lot of rejections from exhibition or residency open call. i was frustrated, still am for such a long waiting. Not sure if I can make it. However, I just lock myself in my room, work work work and care more about my art first not even feel guilty for not going to others' exhibition. After getting rejection, I feel strong need that even those art opportunities are very short term, it's okay I don't get it. What I need is job. I need money. and love relationship that makes me feel energetic. I don't think I like those in the Netherlands. I applied for the BNO visa, I paid some money and made a very clear decision because I know I can earn back money but if I have a job opportunity that can help me get out of the Netherlands, a visa is a must.

I suddenly realise the old one which is very creative took me a lot of energy and not user-friendly. It's not what suit my work but also I don't need to be the one who criticise the art system by not doing it. I can still have a nice-looking website and I can even play with all the MeMes I create. My friend said I don't need to wait and I can also do business in my art. It opens another world I think I can get prepared for it. To play with gallerist in a playful way to introduce myself. Let's wait until I get back to HK for the solo show. I have also paintings for you....
17 June 2022
A letter from art consultant MeMe
Dear Team Hart,


I am writing to recommend an emerging and lesser-represented artist to you. After seeing the open call of Hart, there is something about the criterion that I would like to write you the story of Jessie, and how I get to know her practice related to the practice of collecting artwork.


Jessie is one of the artists I know who sells artwork to peer artists at a very very low price, artwork that can be used in daily life, calculated based on the production cost. Will she be worried about setting prices too low and making things repeatedly? Yes, she was worried: what if a collector wants to buy this artwork in the future? What if the collector knows I was selling things to others at such a low price? She once wrote a letter with 3 sorry:


There are 3 things I want to say sorry which is about my work

I'm sorry I made a lot of work but not being able to make all of you to be seen
I'm sorry I sold some of you at a very very very low price which is not able to sustain my art making
I wanna say sorry to you my future collector if there is and wanna have my work, please forgive me for selling similar stuff to people before for a living.


Jessie was worried but she felt not guilty because she questions how the price is set for an art work. Why is the hourly rate of an artist who made an artwork be higher than that of a cleaning worker? (She was doing cleaning jobs when she was abroad). She made things in the Struggling Artist project, to engrave wisdom and quotes from her friends who help her deal with all kinds of realities and difficulties on the way of becoming an artist (renowned artist, she is an artist, she has been). She made things that her artists' friends could buy based on her labor cost, material cost and production cost in the place where she made them. She realized in the end she doesn't have to be sorry about it because those friends she knows are not having that much money as a collector we recognised in the art world. If a collector wants a work of art from Jessie, she would have/ would love to set it at a much higher price, for the cost of making (which she still believes in the minimum wage mindset) but much more portion goes to compensate her feelings of missing the artwork she made, to keep her art-making career sustainable, to pay for not only 1 month of studio rent, but more months, and so as her living place, no longer live in a very very very small room, her insurance, her insecurity, fear, uncertainty, food, a decent life, etc. She decided to put part of the money into Struggling Art Space for its long term development to support more of her peer artists, to grow together.


Whether a thing is collectible lies not in the limited/ only-one edition of artworks Jessie make to make it original and special in the world, but in the originality that Jessie perhaps is the only artist in the world who not only questions the system of pricing in the art world but to try and experiment with her risk of not having a sustainable way of art-making. The originality lies in how she perceives resources allocation in the art world, by setting a price according to the financial ability of a person: how much a collector would devote in art, hoping to allocate resources that can support herself, and also to the artist–run space that support the artists community.


Instead of forgiving her, overseeing her, I would highly recommend Jessie, who is known as an honest, brave and courageous but also very sensitive artist amongst her peers. The artworks she made in this sense are very original indeed. Your support perhaps would make some progressive changes in the art system, and also for her, no longer need to work as a cleaning worker, to cut less of herself, to be more in her studio. I am sure what she made would be a great surprise in the Hong Kong but also international art scene, for her an artist who has long been under-represented, not being seen.
I look forward to hearing from you.

Best wishes,
Art Concultant MeMe
I am cold and I'm afraid I would become that cold that I close all the doors.

It happened right after I finished the hotel job, getting back home, feeling so tied and sitting on the chair, trying to embrace my whole body, pulling down the curtain. I like grey sky and when I told people about me usually they are shocked. Sunny days are tooo much for me. Pulling down the curtain I made myself an evening in the afternoon. Turning on dim yellow light, working in front of my laptop, listening to Cantonese songs. Not even turning on the light, I went downstairs to get some food and realized my housemates are cleaning the garden. I cannot really help so I said sorry and try to offer some alternative, like throwing trash away and big trash away later. After throwing a lot of trash bags, I made myself food. It's not like the normal Jessie who shares food and put others in front of me. While they are working, I made myself nice afternoon tea.

I feel cold because I try to be more "selfish" than I was before. Saving money, keeping food to myself. Sowhow I cut myself into many little parts and a lot of the parts are always doing things by themselves, not asking for help and not rejecting. One of them is working on a lot of applications lately. Just working and what I heard from people around me a lot also lately is: you still have to take a rest. "I dare not take a rest. I am cruel and harsh to myself. I was very hardworking and now I become extremely hardworking. I dare not rest because I know if I rest now, I would be regret about my art career." Art should not be something that is too important in one's life but it is to me. Life should be in front of it but I can't really resist the fact that art is also important to me. At least I changed my major and all of a sudden I encountered it. I think I don't need to reject it. All the waiting pending unknown waiting ahead come to me as life's realities that really stole something from me and it is a struggle to try to keep those cut selves that are not selfish but could be a bad thing to me.

I have spent many years questioning how the art world shape our behaviour, my desire and subconciousness. I talked about imagining oneself in a white cube space doing interview in a poetic good to know manner. I think lately I know what I want and I have been suppressing my desire. A lot of people are not even criticising a lot about the art world. Why should I?
But it is also very me. if only kids would choose, I want to have both, more, all. It's okay. and I admit it because the things I just want to have are not even here.


19 June 2022
My dream to be a burnt cheese cake
my dream lately is to become a burnt cheese cake, a cake that I always make for people around me, which is like what I written in my artist statement: my cake is game of intimacy, wherein everything is fragile, child like, easy to make, humorous, not meant to last. coz when it's baked, it's too soft, only if I put myself in fridge, I become soft and tough and life is too harsh that I have to be a burnt cheese cake, not too soft not too hard. and no matter how I not follow the recipe, add light cream instead of heavy cream or whatever, it still has potential to become a cake:

Waking up every morning you discover yourself still in the same sh♡t all sort life's realities come to you or you look for the reality you want. you just need to imagine yourself as a burnt cheese cake.
19 June 2022
An open call, an application and a letter to write
If rejection from an open call, application for all kinds of stuff is like love rejected. It seems it is more soothing if we think like this. Everyday art writer MeMe work on application and everyday she waits for a result. With rejection, she just go writes down what what kind of love it would be. what kind of relationship


if not being picked up in an open call or any application is like love rejected. it seems quite ok. I can just find another one and I don't need to put all my effort on the only one. but what about applying again and again? I wonder if I lost energy, sensitivity or sincerity and try to put less effort. However, if you ask me, somehow I'm still putting much effort. I hope I can find an open call that is interested in me, not like something unreachable. it seems it's not real. sometimes I write some sentences in an open call that may not be from my saying, deeply lying in my mind. I copy or inspired by someone's writing and just use it. everytime everytime and become numb. I'm not sure this time I can make it like I like someone and not so sure if I can make it.


I try to figure it out what I want to tell and my story. it's okay if they don't pick me up at least I'm writing like writing a letter and I hope you read it and it is yours now.
19 June 2022
An open call, an application and a letter to write (to continue)
interesting

( in a sense that it is interesting with your teeth showing smile)
it is how I feel interesting living in a world filled with rejections, turning down and now they make me love it. I found it fun when I am rejected. It is true that I was/ have long been in frustrated condition. Or I was very frustrated from the beginning, now it's ok, I breathe, I clean, I eat, I write, I listen to some songs and keep living my life.

If i have put 100% effort in the rejected application, I would like to make it 120%, 1000%, more. It can't be real to have something more than 100% but my maths is bad and i admit it. I do think there is 120%. You like me 100% and I like you 120%.

about not seen and being seen. When i was young (small, still young now) I just "believe" it's equal between you and me (man and woman, don't want to fall into any discussion about classifying things, i do see things like I have a dog friend, a dog I met in Manchester she is as a queer dog which is like a cat) and I do see a lot of male artist/ writer (oh it's fun to call them male artist because we have long call female artist with female, no offense here and don't want to fall into another discussion about it, about putting things in boxes) (and it is from what I have seen in social media). there's no statistic it's just my statistic.

THEY JUST GOT MORE LIKE THAN ME! HOW COME!

And this is why I re-post stuff on not just instagram and facebook and I want to write something so much much much more intimate in such a public space. it's fun if you read it.

And these people seldom like my writing too. I always like their stuff and they don't even see me. Hey I'm here! (some do see, if you read it, i just want to send you candy)

Going back to the world filled with rejections, I brush my teeth and look at myself in the mirror. What a funny day, what will the rejection that come next? interesting, it just makes me feel not giving up. I evolve into a being that welcome rejection and i don't want to die so soon coz i still have a lot of things hidden not being shown and seen. i know you will love it.

and i'm waiting for you.

i write you letter in the very late evening with light dim til my eyes got blurry and i think oh an artist works too much losing an healthy eye

or with a coffee in the morning that it seems too early to post a writing that is supposed to be read in bed.
19 June 2022
Being a vessel of the others
the day i realise i become the vessel of the others and this is why people treat me nice

i don't need a fortune teller to tell my fortune but i need a fortune teller to tell me a little bit of my fate so i can pay attention to some of my life's pattern, let's say:

i was told to have fame easier than money. i'm curious because i am like all who are greedy. we want all (i)i dicovered that i don't need to put too harsh effort to earn money, whenever i'm doing labour work it just keeps me alive. since i was small, i realise from time to time there must be some people aound me give me money, may it be those given by aunties, family or scholarship. I'm not always starving. what about fame?

i realise a lot of people like to tell me their stories. just today doing the cleaning job in the hotel, i just ask a simple question are you studying or working? then it start a whole conversation: i was asked about my status like studying or working. i talk about the roles i have and i got questions about my origins, my roots. i talked about hong kong and i received response like hong kong and china: wait is hong kong part of china? i follow the question and talke about hong kong as hong kong, the colonial history and now being part of china but i (hong kong people) don't feel belong to but a hong kong identity that can be "rootless". we feel we are hong kong people.

she asked me how about her identity. she has grandpa from portugal but she was born in india and she doesn't feel belong to india she doesn't know how to deal with such an identity. my response is: where do you feel your memory base on? or belong to? she said portugal. i went out to grab towel and i guess this is how we feel about our identity.

all of a sudden: i realise people always come to me and tell me their stories. i beome a vessels filled with life's stotires of the others and also a lot of unwanted materials's stories. i encountered stories about bumping into their ex, about how their ex treat the bank account, about fear not having fear having fear and still do the sh*t, about enjoying hk movies, about asian, about new business, about study, about work, about changing school, about not knowing what to do, family, mom-daughter relationship, love struggles, friendship thing, their struggles, about role of artist and the political side of a society, about cleaning experience, about their main job, about everything.

when i carry the stories of the others, i think part of me are the others as i carry their memory and that's the reason people are nice to me even though i didn't follow a lot of the rules sometimes (like in cleaning) and they are all okay with me.

i do realise people like me (sorry if i'm being too arrogant xd) in a way that part of me become theirs and you can't treat yourself bad for i have your memory.

i guess this is why the fortune teller told me i would become famous, i guess it is famours amongst friends. i remember my students was saying i have a vibe around me that welcome people tell their stories because i let them see the fragile me. i wonder what is the meaning to carry life's stories of the others.

Lately i learn to let time help me with things i cannot control, i cannot urge and stuff i can't deal with. i secure part of my desire to time and only i wait and be good with time.

sometimes people look for things in your things to just grab things. eyes that always look for things could be painful cause you just look for things to become great but sometimes it can be about sharing troubles
.
pigeon spikes in UK looks so alike grass and imitate grass grow secretly everywhere in the city so that: pigeon found bird spikes that look so alike to grass but nowhere to stay but bleed. Was it or is it the freedom we had/ have?